Everything You Need to Know About Student Loans
December 19, 2022
Posted by:

CKH Marketing

Categories:

Current Events, Financial Tips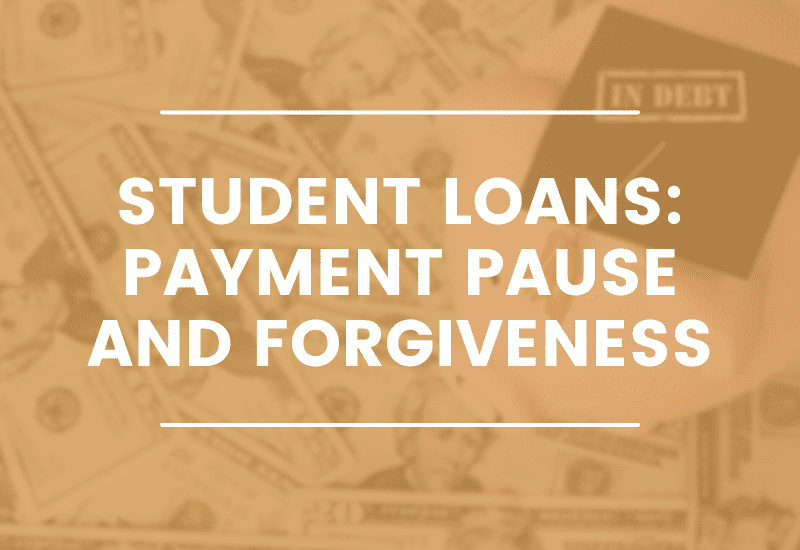 Student Loans Payment Pause
 The Biden administration is furthering the pause on federal student loan payments, a program that began in March 2020 to help people who were struggling financially due to the impacts of Covid-19 pandemic.
The extension on the pause comes as the Biden administration's student loan forgiveness program is held up in the courts. Officials had told borrowers the forgiveness program would be implemented before loan payments were set to resume at the start of January 2023.
The payment pause will last until 60 days after the lawsuit is resolved. If the program has not been implemented and the litigation has not been resolved by June 30th, 2023, then loan payments will resume 60 days after that, according to the Department of Education.
For more information on the student loan forgiveness program, please read below:
Student Loan Forgiveness
On August 24, President Biden laid out an extensive plan to cancel up to $20,000 in federal student loan debt per borrower. However, there are quite a few questions that borrowers are still asking. This comprehensive breakdown aims to answer some of those questions:
Who Qualifies for Loan Forgiveness?
To qualify for the maximum amount of loan forgiveness, you must earn less than $125,000 a year, or less than $250,000 a year for couples, and must have received a Pell Grant in college. However, those who did not receive a Pell Grant, and still meet these income requirements can qualify for $10,000 of forgiveness.
What kinds of loans are going to be forgiven under Biden's plan? 
Graduate loans, undergraduate loans, and Parent PLUS loans managed by the Department of Education are all qualified to be forgiven. It is important to note that Biden's plan only applies to federal student loans, and private student loans are not eligible for forgiveness, even if they started as federal loans.
Do I have to apply for loan forgiveness?
The income guidelines mentioned above will require most borrowers to verify their income with the U.S. Department of Education. However, about 8 million people already have income information on file with the department, so they should qualify to have their debts canceled automatically. But yes, everyone else will have to apply to be considered.
The Education Department states that applications will take between 4-6 weeks to process. Follow this link to apply for forgiveness.
Why "up to" $10,000 or $20,000?
The Biden Administration has been saying that borrowers can receive "up to" $10,000 or $20,000 of forgiveness. Basically, if a borrower owes $8,000 in student loans and qualifies for $10,000 in forgiveness, then the entire debt will be erased, but that extra $2,000 won't be distributed back to the borrower. The federal government will retain those funds.
One thing to note: If you continued to make loan payments during the pandemic pause, and your loan balance is now below the baseline $10,000 (or $20,000 for Pell recipients), you may find it beneficial to ask for a refund so you can take advantage of the full forgiveness amount. See below.
If I continued to pay off student loans during the payment pause, can I get that money back and have more of my loans forgiven?
Yes, and this is important knowledge for the many borrowers that continued to pay off their federal student loans during the moratorium. These borrowers can still benefit from Biden's new loan cancellation plan, even if they paid off their student loans during the pause.
According to the Education Department's office of Federal Student Aid, "You can get a refund for any payment (including auto-debit payments) you make during the payment pause (beginning on March 13, 2020). Contact your loan servicer to request that your payment be refunded."
Keep in mind that this will take time to process, and you should be certain that you do qualify for some level of cancellation, before requesting your refund. Once the refund is issued, you will notice that your student loan balance will increase by the value of the refund.
For example: Say you currently owe $4,000, after paying $3,000 during the payment pause. Once you receive your $3,000 refund, your balance will grow to $7,000. Your next step will then be requesting cancellation for your new $7,000 total under Biden's plan.
While this information is aimed to answer the many questions borrowers may have, we understand that this is a developing story. Please continue to check back here for all future updates. And as always if you have any questions, CKH Group is here for you! Reach out and let's chat, or you can contact us at 1-770-495-9077 or email us at info@ckhgroup.com.
The above article only intends to provide general financial information and is based on open-source facts, it is not designed to provide specific advice or recommendations for any individual. It does not give personalized tax, financial, or other business and professional advice. Before taking any form of action, you should consult a financial professional who understands your particular situation. CKH Group will not be held liable for any harm/errors/claims arising from the articles. Whilst every effort has been taken to ensure the accuracy of the contents we will not be held accountable for any changes that are beyond our control.
ready to talk to a consultant?